Important Garage Door Parts
04/13/2015
Back To Blog
Garage door parts may not be something that you think about as long as your door works fine. However, if several parts of your door fail to work, the entire operation of your door will fail as well. Your garage door is composed of different parts. To make sure that your door is working properly, you need to ensure that every part of your door works properly as well.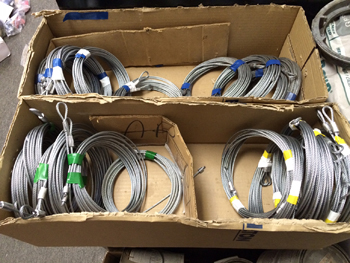 We Have Expertise and Guarantee Excellence
Garage door parts and components
Faulty parts can cause your door to malfunction. Moreover, this can also make your door work slower or make noise as it operates. In certain cases the door may stop working altogether. You have to verify that your door parts are of high quality to ensure durability and to make your door work safely and properly. Garage door springs are important parts of the door. In fact, without this, the door will not open. The springs counterbalance the weight of the door. In addition, consider getting heavy duty springs to ensure they last longer than normal door springs.
Rollers function as a guide as the door opens and closes. This is an important part of the opening mechanism of your garage door system. There are rollers that can withstand 80,000 cycles, which ensures a longer life. Drums are also a part of the working mechanism. If the door drums are properly installed and functioning, it will keep the door balanced as it opens and closes. The door cables work closely with the spring system of the door. They help lift the door as it opens. Door cables should withstand extreme pressure and temperature changes. Bearing plates are important parts of your door as well. This is the part holds the torsion system in its place and this can minimize the stress on the motor of your system.
These are only few parts of your door that are important in ensuring functionality of your door. While choosing garage door parts, you should consider choosing high quality components to ensure that your door works safely and smoothly for a long period of time.